Visit worldtravels.com for the full guide to India. Build a complete India travel guide and email to your clients - sign up for a trial subscription of World Travels Pro.
India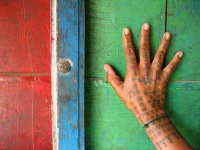 From the snow-capped Himalayas in the north to the sun-drenched coastal villages of the south, India unfolds like an ancient tapestry. At times threadbare and fading, the land stretches from desert dunes and scattered slums to the rich embroidery of ancient, jewelled palaces, and the majestic domes of forgotten empires.
Since the first civilisations rose on the banks of the Indus River almost 5,000 years ago, India has given birth to Buddhism and Hinduism, been touched by the Empire of Alexander the Great, seen the ancient empires of the Mauryas and Guptas rise and fall, and has traded with Pharaohs and Caesars.
An invasion by the Huns scattered its people until the sweeping hand of Islam saw new kingdoms rise, heralding the era of the Sultans. Defeat came again as the Mogul Emperors marched over the mountains and into the Punjab. The decline of the Mogul Empire gave way to the Marathas, who consolidated control of India just in time for the arrival of the British. The sun finally set on the British Empire as India reclaimed independence in 1947, heralding a new age of democracy.
India is a feast for the senses; where the air is heavy with the scent of jasmine and dancers trail frenetic melodies in colourful silk saris. Its cooks compose dishes from a palette of exotic spices that may leave a lingering taste of saffron or aniseed. In India's cities, the hardship of slum-living competes with the cacophony of seemingly endless traffic and a myriad of other textures, colours and movements all jostling for your attention.
Climate
It is hard to generalise in a country that runs from the Himalayas to the beaches of the Indian Ocean, but broadly speaking, October to March tend to be the most pleasant months in India, when it relatively dry and cool. In the far south the best months to visit are between January and September, while north-eastern areas of India tend to be more comfortable between March and August. The deserts of Rajasthan (west of Jodhpur) and the north-western Indian Himalayan region are at their best during the monsoon season (July to September). The mountainous regions of Himachal Pradesh and Kashmir should be visited over the summer months (May to September).
Money
The currency is the Indian Rupee (INR), which is divided into 100 paise (singular paisa). Major currencies can be changed at banks, and authorised bureaux de changes. It is impossible to obtain rupees outside India, but no matter what time you arrive in India there will be an exchange office open at the airport. It is illegal to exchange money through the black market and it is advisable to refuse torn notes, as no one will accept them apart from the National Bank. It is best to change money into small denominations. Travellers cheques and major credit cards are widely accepted, particularly in tourist orientated establishments. ATMs are not generally available.
Passport Visa
Individual tourists requiring visas should preferably apply for a tourist visa and not for an ordinary visa, to avoid problems on departure. Visa extensions are possible, by applying for them through the Ministry of Foreign Affairs. Holders of multiple-entry Tourist Visas (visa type code "T"), with a validity ranging from above three months and up to 10 years, are required to leave a gap of at least two months between visits. This will be noted as a stamp in their passport upon their departure from India (this rule does not apply to those visiting neighbouring countries, such as Nepal). Those wishing to re-enter before two months have expired must contact an Indian mission abroad to obtain permission, which, if granted, will be in the form of a letter. Within 14 days of re-entry, the visitor is required to register with the Foreigner's Regional Registration Office (FRRO). Any waiver of this restriction will be endorsed on the visa page in the visitor's passport. Note that a yellow fever vaccination certificate is required, if arriving in India within six days of leaving or transiting through heavily infected areas. Also note that the following areas of India are restricted, and require that visitors obtain a permit BEFORE entering them: (Protected Areas) parts of the state of Manipur, parts of the state of Mizoram, parts of the state of Arunachal Pradesh, the whole state of Nagaland, the whole of State of Sikkim, parts of the state of Uttaranchal, parts of the state of Jammu and Kashmir, parts of the state of Rajasthan, parts of the state of Himachal Pradesh; (Restricted Areas) the whole of the union territory of Andaman & Nicobar Islands, part of the state of Sikkim. If surface travel is involved, and nationals travel via restricted areas, they require a "pass" issued by either the Foreigners Regional Registration Office (located in each major Indian city), or the Superintendent of Police (located in each Indian district), or the diplomatic representation of India in Bhutan or Nepal. NOTE: It is highly recommended that your passport has at least six months validity remaining after your intended date of departure from your travel destination. Immigration officials often apply different rules to those stated by travel agents and official sources.
Entry Requirements
US citizens must have a passport that is valid upon arrival, and a visa, to enter India.
British citizens must have a passport that is valid upon arrival, and a visa, to enter India.
Canadian citizens must have a passport that is valid upon arrival, and a visa, to enter India.
Australian citizens must have a passport that is valid upon arrival, and a visa, to enter India.
South African citizens must have a passport that is valid upon arrival, and a visa, to enter India.
Irish citizens must have a passport that is valid upon arrival, and a visa, to enter India.
New Zealand citizens must have a passport that is valid upon arrival, and a visa, to enter India.
Health
There are a many health risks associated with travel to India and although no vaccinations are required for entry into India, travellers should take medical advice on vaccinations at least three weeks before departure. Outbreaks of Dengue fever and Chikungunya virus occur, both being transmitted by mosquitoes. Malaria outbreaks are common in areas above 6,562 feet (2,000m), particularly in the north-east of the country. Outbreaks of cholera occur frequently. Travellers from an infected area should hold a yellow fever certificate. Food poisoning is a risk in India: all water and ice should be regarded as contaminated, and visitors should drink only bottled water and ensure that the seal on the bottle is intact. Meat and fish should be regarded as suspect in all but the best restaurants, and should always be well cooked and served hot. Salads and unpeeled fruit should be avoided. Health facilities are adequate in the larger cities, but limited in rural areas. Travellers should have medical insurance, and bringing a standard first-aid kit complete with a course of general antibiotics is advisable. Diarrhea is common amoung travellers to India and is best treated with re-hydration salts; however, if symptoms persist for more than two days visiting a private hospital is recommended. Bird flu has been a problem in the past and travellers should take the necessary precautions when eating poultry and egg dishes. Rabies is also a hazard, and should you get bitten by a dog, cat or rat it is best to consult a medical practitioner immediately. Travellers to the Himalayan Mountains should be aware of the risks of altitude sickness.
Embassy Consulates
Indian Embassy, Washington DC, United States: +1 202 939 7000.
Indian High Commission, London, United Kingdom: +44 (0)20 7836 8484.
Indian High Commission, Ottawa, Canada: +1 613 744 3751/52/53
Indian High Commission, Canberra, Australia: + 61 (0)2 6273 3999.
Indian High Commission, Pretoria, South Africa: +27 (0)12 342 5392.
Indian Embassy, Dublin, Ireland: +353 (0)1 496 6792.
Indian High Commission, Wellington, New Zealand: +64 (0)4 473 6390/1.
Foreign Embassies
United States Embassy, New Delhi: +91 (0)11 2419 8000.
British High Commission, New Delhi: +91 (0)11 2687 2161.
Canadian High Commission, New Delhi: +91 (0)11 4178 2000.
Australian High Commission, New Delhi: +91 (0)11 4139 9900.
South African High Commission, New Delhi: +91 (0)11 2614 9411.
Irish Embassy, New Delhi: +91 (0)11 2462 6733.
New Zealand High Commission, New Delhi: +91 (0)11 2688 3170.