Airport
Malta International
IATA Code:
MLA
Location:
The airport is situated three miles (5km) southeast of Valetta.
Time:
GMT +1 (GMT +2 from last Sunday in March to Saturday before last Sunday in October).
Contacts:
Tel: +356 2124 9600.
Transfer to the city:
Malta Airport has a system whereby passengers pre-pay before boarding a taxi. The taxi booth is situated in Arrivals, where the fare can be paid and a voucher obtained for presentation to the taxi driver. A regular bus service operates between the airport and Valetta; the journey time to Valetta is about 15 minutes.
Car rental:
Car rental companies at Malta International include Avis, Budget, Europcar, Hertz, Thrifty and Sixt.
Facilities:
There are several restaurants, bars and shops and a duty-free outlet in the departure area. Banks and 24-hour foreign exchange bureaux are also available Malta International Airport. Disabled facilities are good; wheelchairs can be organised though the airlines.
Parking:
Parking is available.
Departure tax:
None.
Website:
www.maltairport.com
Visit worldtravels.com for the full guide to Valletta. Build a complete Valletta travel guide and email to your clients - sign up for a trial subscription of World Travels Pro.
Valletta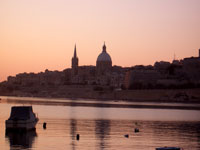 Valletta, which is the capital of Malta, has the charm of an Italian city with its many Baroque palaces set on narrow steep streets that form a grid pattern. The city was carefully planned by its founder, Grand Master Fra Jean de la Vallette and the Knights of the Order of St John. The city was 'built by gentlemen for gentlemen' with the first stone being ceremonially laid in 1566 after Ottoman forces withdrew their siege of the Maltese Islands and the Knights of St John took over. The purpose of the city, built in a short span of 15 years on a plateau between two harbours on Malta's northeast coast, was primarily to fortify the island and secondly to provide palaces, Auberges (lodgings) for the eight Knight's groupings (Langues), churches for worship and gardens for recreation. The remnants of the Knight's occupation today characterise Valletta in the form of some splendid Baroque buildings and fortifications, but the majestic architecture manages not to overwhelm the island's carefree personality.