Airport
Portland International Jetport
IATA Code:
PWM
Location:
Portland International Jetport is located five miles (8km) from downtown Portland.
Time:
GMT -5 (GMT -4 from March to November).
Contacts:
Tel: (207) 774 7301.
Transfer to the city:
Taxis are available at a flat rate from the first flight in the morning to the last flight at night. Limousines are also available. The Portland Explorer shuttle service connects the Jetport with Portland's main transportation facilities and certain other locations. Visit the Ground Transportation Booth outside baggage claim for more information.
Car rental:
There are several major car rental agencies represented at the Jetport, including Alamo, National, Hertz, Budget and Avis.
Facilities:
Facilities in the Jetport include a full-service restaurant, ATMs, Starbucks, gift shops, a business centre and Visitor Information. Disabled facilities are good.
Parking:
Short and long- term parking is available.
Departure tax:
None.
Website:
www.portlandjetport.org
Visit worldtravels.com for the full guide to Portland, Maine. Build a complete Portland, Maine travel guide and email to your clients - sign up for a trial subscription of World Travels Pro.
Portland, Maine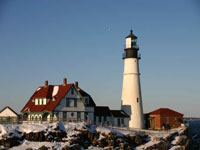 Portland is Maine's biggest city and is the state's cultural and economic hub, attracting over three and a half million visitors each year. Originally a fishing and trading settlement, the town was destroyed three times over a hundred year period, and finally regained stability as a shipping port.
Unfortunately, over-zealous Independence Day celebrants managed to set fire to most of the city's commercial buildings, hundreds of houses and roughly half the city's churches in 1886, causing it to be rebuilt once again, this time in a Victorian style. Spectacular examples of this architecture can be found in the mansions set along the famous Western Promenade.
Despite its tough beginning, Portland remains a beautiful city, ideally situated on a peninsula that juts out into Casco Bay, flanked by several small islands. Historic architecture blends with modern amenities and the city is a bustle of activity, making it one of the country's top cities to live in. Resplendent in natural beauty, Portland is highly popular in summer and visitors can enjoy boat rides; walks, shopping and dining at the Old Port historic waterfront; a visit to the Downtown Arts District or to the prominent Portland Head Light Lighthouse. The home of poet Henry Wadsworth-Longfellow is also well worth a visit, as is the Maine History Gallery, and for the kids, there is the Children's Museum of Maine.
Portland is a wonderful city to visit in its own right, with plenty of attractions, activities and sights for the visitor, and it is also a useful base from which to explore the rest of this beautiful state.