Airport
Santiago Arturo Merino Benitez International Airport
IATA Code:
SCL
Location:
The airport is situated 13 miles (21km) north west of Santiago.
Time:
Local time is GMT ?5 (GMT ?4 from the second Sunday in October to the second Saturday in March).
Contacts:
Tel: +56 (0)2 690 1752/3.
Transfer to the city:
Several bus services leave regularly for the city centre. Official airport taxis are also available from outside international and domestic arrivals.
Taxis:
There are taxi ranks located outside both the Domestic and International Arrivals terminal.
Car rental:
International companies such as Avis and Alamo are represented at the airport as well as several local companies.
Facilities:
Facilities at this extremely well equipped airport include Business and Internet Centres, bureaux de change, banks and ATMs, duty-free shops as well as a variety of other retail stores, restaurants, cafes and bars, a post office, tourist information, travel agencies and hotel reservations. There are also plenty of children's play areas available.
Parking:
Parking is available 24-hours a day.
Departure tax:
US$26 (there is also an Arrivals tax: US citizens pay US$131)
Website:
www.aeropuertosantiago.cl
Visit worldtravels.com for the full guide to Santiago. Build a complete Santiago travel guide and email to your clients - sign up for a trial subscription of World Travels Pro.
Santiago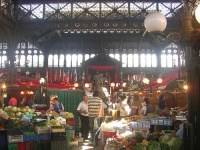 The towering Andes provide an awesome backdrop for the sprawling Chilean metropolis of Santiago. The population of this flat urban stage that spreads out from a compact city centre numbers more than five million. Despite this, a small town atmosphere prevails downtown where friends will more than likely meet and greet each other in the overcrowded streets and bustling walkways of the main commercial district.
The city is a curious mix of skyscrapers and 19th-century European architecture, with some Spanish adobe bungalows thrown in for good measure. Threaded through this architectural tapestry are numerous green areas, busy markets, and quaint old squares. Street life is vibrant, and adding to the vibe is the presence of numerous chic sidewalk cafes, outside of which traditionally dressed women hawk their wares hoping to catch the eye of the tourists. There are also some small but impressive museums, several modern hotels, excellent restaurants and some good shopping opportunities in the Ahumada and Huerfanos pedestrian malls.
Santiago exudes an aura of health and wealth in the inner city and fashionable suburbs, despite the shabby shantytowns stretching out from behind the skyscraper facade. The city is also one of the 10 most severely polluted cities in the world, thanks to its position in a bowl of mountains. It is nevertheless an excellent base in which to spend a relaxing few days taking excursions to the wineries, national parks and ski areas, which are all within easy reach of the city.