Visit worldtravels.com for the full guide to Quebec. Build a complete Quebec travel guide and email to your clients - sign up for a trial subscription of World Travels Pro.
Quebec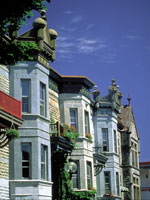 The huge province of Quebec occupies the eastern part of Canada, with coasts on the North Atlantic, Hudson and James Bays, and the Lawrence Seaway (the major shipping channel of the east coast which cuts through the south of the province). The major cities of Quebec and Montreal are both situated in the more populated south on the St Lawrence River.
The province has a wide variety of landscapes, climatic regions and vegetation, and therefore numerous different and distinct tourist attractions, routes and getaways to offer. In the most northerly reaches the wilderness prevails covered by thick forests and clear lakes. This gives way to the snowy mountains of the Laurentians, popular resort country, while down south is the urban sprawl of Canada's French-speaking cities and rolling pastures of the farmlands. Quebec has 22 national parks and a variety of natural landmarks, including Montmorency Falls outside of Quebec City and the Gasp¨¦ Peninsula on the St Lawrence River.
Quebec has a uniquely French flavour, remaining the only North American region to preserve its Francophone identity. In Quebec French is the official language and is spoken by more than 80 percent of the population. For decades the province has been dogged by political battles regarding secession, but currently moves to turn Quebec into a sovereign state have been put on the back-burner in favour of concentrating on economic development.