Visit worldtravels.com for the full guide to Slovenia. Build a complete Slovenia travel guide and email to your clients - sign up for a trial subscription of World Travels Pro.
Slovenia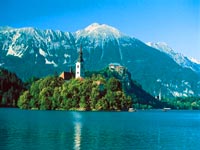 A small country, half the size of Switzerland in the south of central Europe, Slovenia is packed with unusual and often unique attractions and experiences, from primeval forests to a lively and architecturally beautiful capital city, and from thermal springs to its mysterious karst (limestone plateau) caves.
The country is sandwiched between Italy, Croatia, Hungary and Austria, with a coastline on the Adriatic Sea to the south west.
Visitors to this picturesque corner of Europe can enjoy several amazing and contrasting experiences in the space of one day: start with a morning dip in the Adriatic, followed by a couple of hours skiing on Alpine slopes, then explore the subterranean wonders of the karst caves or become invigorated with a thermal bath, before strolling through vine-clad hills or ancient forests and ending the day in a sophisticated casino. Ideally though, it takes much longer than a day to sample all the delights of this fascinating country.
The vibrant capital city, Ljubljana, sports a mix of Baroque, Renaissance and Art Nouveau architecture, exuding an Austro-Alpine atmosphere gleaned from belonging to the Austro-Hungarian Empire for many centuries.
Finally, Slovenia boasts of having 2,000 hours of sunshine a year in which to enjoy all its offerings. The locals are proud to explain why visitors are enchanted with their country: Slovenia is the only country in the world with 'love' in its name! An up-and-coming European holiday destination, visitors are strongly urged to check out Slovenia before the inevitable effects of mass tourism begin to take hold.
Climate
Slovenia has a Mediterranean climate on the coast, and a continental climate with mild to hot summers and cold winters in the plateaus and valleys to the east. Most of Slovenia's annual rainfall occurs during spring in the interior regions away from the coast. Winters are cold, particularly along the eastern part of the country and in the Slovenian Alps, which are often covered in snow during the winter period. The Slovenian coastline has a sub-Mediterranean climate while the interior regions have a continental climate with chilly winters and hot summers.
Money
The Euro (EUR) is the official currency, which is divided into 100 cents. Banks offer the best exchange rates for cash and travellers cheques. Banking hours are 8am to 12.30pm, and 2pm to 6pm on weekdays, and from 8am to 12pm on Saturdays. Numerous bureaux de change are open outside banking hours throughout the country. ATMs are readily available in major cities. Credit cards are widely accepted by hotels, restaurants and shops.
Passport Visa
Passports should be valid for the period of stay. Those with non-EEA passports are also recommended to hold documents for onward or return travel, and sufficient funds of at least EUR70 for adults and half that amount for children under 18, per day of stay, or the equivalent in another hard currency. The borderless region known as the Schengen area includes the following countries: Austria, Belgium, Czech Republic, Denmark, Estonia, Finland, France, Germany, Greece, Hungary, Iceland, Italy, Latvia, Lithuania, Luxembourg, Malta, The Netherlands, Norway, Poland, Portugal, Slovakia, Slovenia, Spain and Sweden. All these countries issue a standard Schengen visa that has a multiple entry option that allows the holder to travel freely within the borders of all. It is highly recommended that passports have at least six months validity remaining after your intended date of departure from your travel destination. Immigration officials often apply different rules to those stated by travel agents and official sources.
Entry Requirements
US passport holders do not require a visa for stays of up to 90 days, but a valid passport is required.
Holders of British passports endorsed British Citizen do not require a visa. British Overseas Territories Citizen, British National (Overseas) or British Subjects with right of abode in the UK do not require a visa to stay in Slovenia for up to 90 days. A valid passport is required. Passport exemptions include holders of a National Identity Card issued by the United Kingdom, and holders of Identity Cards issued by the Gibraltar Authorities endorsed Validated for EU travel purposes under the authority of the United Kingdom.
Canadians do not require a visa to enter Slovenia for a stay of up to 90 days, but a valid passport is required.
Australian citizens do not require a visa to stay in Slovenia for up to 90 days, but a valid passport is required.
South African passport holders require a visa to visit Slovenia. A valid passport is required.
Irish nationals do not require a visa, but a valid passport is required.
New Zealand nationals do not require a visa for stays of up to 90 days, but a valid passport is required.
Health
Typhoid and Hepatitis A vaccinations are recommended. In forested areas hikers should guard against tick bites, as tick-borne encephalitis and Lyme disease are a risk. Mains water is safe to drink, milk is pasteurised and local meat and produce safe to consume. Free emergency treatment is available from hospitals and private doctors contracted. Slovenia has a reciprocal health agreement with most EU countries, including the UK, providing emergency health care on the same terms as Slovenian nationals. EU travellers should take a European Health Insurance Card (EHIC).
Embassy Consulates
Slovenian Embassy, Washington DC, United States: +1 202 386 6601.
Slovenian Embassy, London, United Kingdom: +44 (0)20 7222 5700.
Slovenian Embassy, Ottawa, Canada: +1 613 565 5781.
Slovenian Embassy, Canberra, Australia (also responsible for New Zealand): +61 (0)2 6290 0000.
Consulate of Slovenia, Cape Town, South Africa: +27 (0)21 970 2447
Slovenian Embassy, Dublin, Ireland: +353 (0)1 670 5240.
Foreign Embassies
United States Embassy, Ljubljana: +386 (0)1 200 5500.
British Embassy, Ljubljana: +386 (0)1 200 3910.
Canadian Consulate, Ljubljana: +386 (0)1 252 4444.
Australian Consulate, Ljubljana: +386 (0)1 234 8675.
South African Honourary Consulate, Ljubljana: +386 (0)1 200 6300.
Embassy of Ireland, Ljubljana: +386 (0)1 300 8970.
New Zealand Embassy, Rome, Italy (also responsible for Slovenia): +39 (0)6 853 7501.