Visit worldtravels.com for the full guide to Saudi Arabia. Build a complete Saudi Arabia travel guide and email to your clients - sign up for a trial subscription of World Travels Pro.
Saudi Arabia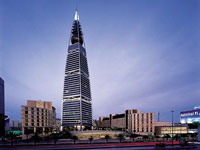 The Kingdom of Saudi Arabia receives hundreds of thousands of visitors each year, but few enter as tourists. This conservative country connecting Africa and mainland Asia contains the spiritual centre of the Islamic world, Mecca, and the sacred city of Medina, so most of the visitors are pilgrims, permitted on special religious visas.
Others come to this oil-rich nation on sponsored business trips, generally finding little time or facility for leisure and pleasure. Saudi Arabia is intent on keeping its traditions, culture and religious heritage away from prying western eyes. Its cities, however, are not backwaters but modern, bustling commercial centres, like the Royal capital, Riyadh, offering excellent hotels and some breathtaking sights such as the Al Faisaliah golden geodesic dome, one of the tallest buildings in the region.
Amongst it all, the magic of Arabia shines through in the souks (markets) where vendors tout everything from carpets to camel milk. Rules and regulations make sightseeing difficult for foreigners except on a few approved and expensive tours, but sites like the ruins of 15th-century Dir'aiyah (the nation's first capital) and trips to the world's largest camel market make for interesting excursions. The preserved ancient city of Jeddah is also listed as a 'tourist site', as is that city's seafront corniche, a popular spot with the air of a British seaside resort that draws the country's own domestic holidaymakers.
Occupying most of the Arabian Peninsula, and bordered by no fewer than eight Middle-Eastern states, Saudi Arabia manages its highly-controlled religious society alongside the onslaught of its progressive oil-boom industry. The kingdom's strategic position both geographically and culturally at the centre of the Arab world has made it an unsafe place for westerners, and those who do visit are advised to plan thoroughly and be fully informed.
Climate
Saudi Arabia has a typical desert climate of blistering hot days and cool nights, and is one of the driest countries in the world. Summers can be extremely hot with temperatures rising to 130oF (55oC) in some areas. The higher inland areas are cooler. Coastal cities are humid and hot year round. Sandstorms blow anywhere in the country, some lasting for days.
Money
The Saudi currency is the Riyal (SAR), divided into 100 halala. Foreign currency can be changed at banks and exchange bureaux. Banking hours are generally Saturday to Wednesday from 8am to 12pm and 4pm to 8pm. All major credit cards are accepted at shops, hotels and restaurants in Saudi Arabia. Travellers cheques are also accepted and ATMs are widely available. There are no taxes in Saudi Arabia, so shopping is good value.
Passport Visa
All visitors require a visa to enter Saudi Arabia, and visas are only granted to those with sponsorship in the country. Tourist visas are granted only to selected groups on a limited basis. Everyone who enters the Kingdom should have a valid passport with at least six months validity in addition to the appropriate visa and a return ticket, with all necessary documents. Women entering the Kingdom alone must be met by a sponsor or male relative and have confirmed accommodation for the duration of their stay. Entry may be refused to any visitor arriving in an intoxicated state, men wearing shorts, women in tight clothing or with legs and arms exposed, and to couples displaying affection in public. There are special requirements for pilgrims undertaking the Hajj or visiting holy sites. It is strongly recommended not to hold passports containing any Israeli visa or stamp when entering or transiting Saudi Arabia as entry may be refused.
Entry Requirements
US citizens require a passport and visa to enter Saudi Arabia.
British passport holders require a passport and visa to enter Saudi Arabia.
Canadians require a passport and visa to enter Saudi Arabia.
Australians require a passport and visa to enter Saudi Arabia.
South Africans require a passport and visa to enter Saudi Arabia.
Irish passport holders require a passport and visa to enter Saudi Arabia.
New Zealanders require a passport and visa to enter Saudi Arabia.
Health
Anyone arriving in Saudi Arabia from a country infected with yellow fever requires a vaccination certificate for entry. People travelling to perform Hajj and Umrah are required to be inoculated against meningitis before travel and must present a vaccination certificate on arrival; a meningococcal vaccine is recommended for all travellers. Respiratory infections are common among pilgrims during the Hajj season; Influenza vaccine is recommended for all pilgrims during the Hajj. Not compulsory, but definitely advisable, is vaccination against hepatitis A, polio and typhoid fever. There is a malaria risk in the south and parts of the western region of the country and visitors should take advice on anti-malarial precautions at least four weeks before leaving; an outbreak of cerebral malaria has occurred in Jizan. Rift Valley Fever has also occurred, mainly in the Jizan area. Dengue fever has been reported. An outbreak of bird flu was confirmed in April 2007; however the risk is low for travellers, but contact with domestic, caged and wild birds should be avoided and poultry and egg dishes well cooked. Food poisoning is a risk outside the good hotels. Visitors should only drink bottled water. The standard of medical care and facilities in Saudi Arabia is high, but treatment is expensive, therefore health insurance is strongly advised for all travellers.
Embassy Consulates
Saudi Arabian Embassy, Washington DC, United States: +1 202 342 3800.
Saudi Arabian Embassy, London, United Kingdom (also responsible for Ireland): +44 (0)20 7917 3000.
Saudi Arabian Embassy, Ottawa, Canada: +1 613 237 4100.
Saudi Arabian Embassy, Canberra, Australia (also responsible for New Zealand): +61 (0)2 6250 7000.
Saudi Arabian Embassy, Pretoria, South Africa +27 (0)12 362 4230.
Foreign Embassies
United States Embassy, Riyadh: +966 (0)1 488 3800.
British Embassy, Riyadh: +966 (0)1 488 0077.
Canadian Embassy, Riyadh: +966 (0)1 488 2288.
Australian Embassy, Riyadh: +966 (0)1 488 7788.
South African Embassy, Riyadh: + 966 (0)1 422 9716.
Irish Embassy, Riyadh: +966 (0)1 488 2300.
New Zealand Embassy, Riyadh: +966 (0)1 488 7988.